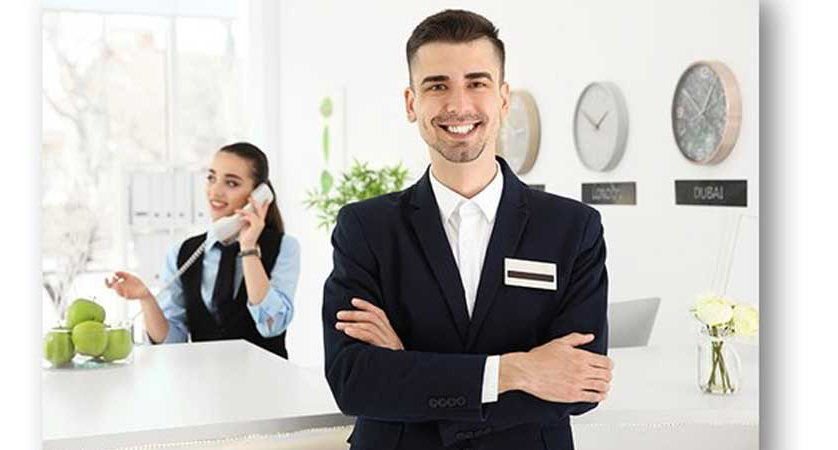 The Hospitality Management Program at Glenbow College has been developed to prepare you for supervisory and management careers within the dynamic hospitality and tourism industry. The program gives you a solid knowledge of hospitality and tourism business operations, coupled with effective leadership and management skills. Students will gain theoretical and practical knowledge in hospitality and tourism management and will be exposed to many facets of the industry. Industry certification training will be provided and successful completion will give students a "head start" as they seek employment.
Glenbow College is proud of partnering with The American Hotel & Lodging Educational Institute (AHLEI). AHLEI has a global reputation as a provider of the best hospitality textbooks and materials in the industry. Our students gain valuable knowledge that reflects current practices and trends in today's hospitality industry. They can also receive AHLEI course completion certificates when they pass the AHLEI-graded final exam for the textbook. No other educational source offers this tangible industry connection. These certificates are backed by more than 65 years of AHLEI's experience in providing materials to educate hospitality students and professionals around the world!
Smaller class sizes at Glenbow College allow you the one-on-one time you need to succeed. Throughout the program, you are provided with opportunities to develop teamwork, leadership, communication, critical-thinking and problem-solving skills. This experiential learning enables you to apply the program`s unique theoretical knowledge in a variety of actual business situations.
While studying the Hospitality Management diploma program, students will develop and master the skills applicable to the hospitality field, such as food and beverage, event management, marketing and sales, accounting for hospitality and other related areas. This program will enable students to acquire the skills needed to start a career in the hospitality and tourism operation. Created by industry experts, the Hospitality Management diploma program focuses on four key areas of the hospitality and tourism industry:
management
finance
human resources
marketing
Moreover, students will also put their skills into action through practicum training totaling 440 hours of work experience before earning their diploma.
Theory on site 520 hours.
Practice at workplace (Co-op Work Experience) 440 hours
Hospitality Management Program at Glenbow College is licensed under the Private Career Colleges Branch of Alberta Advanced Education. Find out more by visiting the Government of Alberta website.
An Alberta Secondary School Diploma or equivalent (supported by transcript)*; or be at least 18 years of age or older and pass an entry test
Some graduates may also choose to pursue entrepreneurial opportunities.
Graduates of this program are equipped with the skills, knowledge and experience required to succeed in hospitality and tourism careers and may find employment both locally and globally in:
hotels or resorts
restaurants
cruise lines
consulting firms
destination marketing organizations
suppliers to the hospitality and tourism industry
Specific opportunities can include:
management trainee for large hotel chains
sales and marketing managers
revenue/finance managers
event coordinators /planners
human resources coordinator
food and beverage manager/supervisor
front desk manager/supervisor
club managers
attractions managers/supervisors
restaurant managers/supervisors
Some graduates may also choose to pursue entrepreneurial opportunities.
WAGE & SALARY
| | | | | |
| --- | --- | --- | --- | --- |
| Wages* | Low (5th percentile) | High (95th percentile) | Average | Median |
| Starting | $15.00 | $40.87 | $25.62 | $24.04 |
| Overall | $17.30 | $46.88 | $28.76 | $26.92 |
| Top | $17.31 | $54.61 | $31.79 | $30.00 |
* * All wage estimates are hourly except where otherwise indicated. Wages and salaries do not include overtime hours, tips, benefits, profit shares, bonuses (unrelated to production) and other forms of compensation.
Source: https://alis.alberta.ca/occinfo/occupations-in-alberta/occupation-profiles/accommodation-manager/
Glenbow College Difference
We believe that Practice Makes perfect so we have 440 hours of practice opportunity for our students. Glenbow College gives you an opportunity to study some certificate programs directly related to your career in the future. While studying your major diploma program at Glenbow College, accelerate or expand your career with some extra certificates. Certifications offered by the American Hotel & Lodging Association (AHLA) are available to students, giving them a competitive edge. The certifications open to students are:
Non-Violent Crises Intervention
CPR & WHMIS
Certified Front Desk Representative (CFDR)
Certified Restaurant Server (CRS)
Certified Kitchen Cook (CKC)
Certified Breakfast Attendant (CBA)
Certified Guestroom Attendant (CGA)
Certified Maintenance Employee (CME)
Certified Hospitality Department Trainer (CHDT)
Certified Guest Service Professional (CGSP)
Certification in Hotel Industry Analytics (CHIA)
---
Contact Us